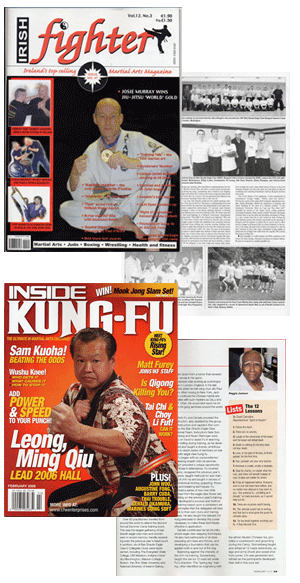 Article published in Irish Fighter
and Inside Kung Fu magazines!
Bak Shaolin Eagle Claw International has struck again, hosting the year's premier kung fu training event: Summer Camp 2005! It was a rousing success, building on last year's Summer Camp 2004. Under the auspices of Grandmaster Fu Leung and with the organizational skills of Sifu Dana G. Daniels, US National Coach and Operations Chief, the camp was hosted by Team Evergreen (Olympia) and the Phinney Ridge Kung Fu Club (Seattle). National Team members Sam Haskin (VP, Interactive Director at MRM Partners), Owen O'Keefe, and Andrew Bresnik attended to many of the details that made this Camp run even more smoothly than last year's. Training sessions took place at the Evergreen State College, at the Longhouse Educational and Cultural Center, and at Phinney Ridge Community Center in Seattle, all spaces well suited to the training. The overall quality of the facilities was much appreciated by the delegates as they sweated their way through a diverse and intensive Summer Camp curriculum.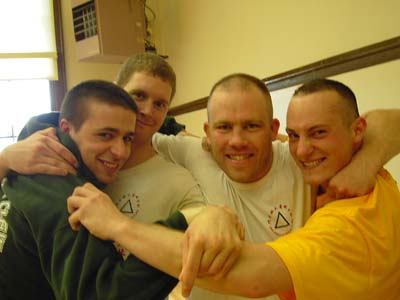 Over 60 practitioners traveled from around the world and all over the United States to attend the second annual Summer Camp training event. With familiar faces and several new ones, this was, once again, the largest gathering of Bak Shaolin Eagle Claw men and women seen in recent memory, handily exceeding even last year's head count. Once again, Mr. Ryan Kunimura went to exceptional lengths to be there, catching a last-minute flight from his hometown of Honolulu, Hawaii to make the camp. In addition, six of Bak Shaolin Eagle Claw's Collegiate Clubs were represented, including The Evergreen State College, UW-Madison, Indiana University-Bloomington, Babson College-Boston, Ohio State University, and National University of Ireland-Galway. Both Master Fu and Sifu Dana provided the instruction, ably assisted by the group of Instructors and Captains that comprise the Bak Shaolin Eagle Claw National Team. Instructors Nate Sonnenberg and Noam Reininger were on-hand to assist Master Fu in teaching and drilling during training, as he developed and taught a diverse, ambitious, and in-depth series of seminars on Bak Shaolin Eagle Claw Kung Fu.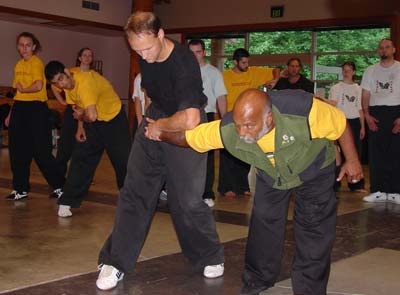 Master Fu began with an unprecedented weeklong Shaolin Chin Na seminar. This was a unique opportunity for those in attendance, as this was the most complete series of Chin Na techniques that has been taught to a single group in years. Master Fu covered basics, recapped last year's lessons, taught methods for solo training of Chin Na, and taught in excess of 30 individual locking, grappling, throwing, and breaking techniques. Grandmaster Fu evolved a series of two-man drills derived from the Eagle Claw Flower set, building on last year's training. He developed a process and method of training based upon a consistent set of principles that the delegates will take back to their own Clubs and training bases. He also taught the relevant kung exercises to develop the power necessary to make these techniques effective in application. Sifu Dana contributed his Tai Chi influenced Eagle Claw slapping techniques. He also had participants of all sizes executing arm bars and throws, and developing a foundation that can be applied both in and out of the ring.
Balancing against the intensity of the Chin Na training, sifu Nate Sonnenberg, 2002 World IMAC forms champion, taught the Tan Tui 12 road set under Master Fu's direction. The 'Spring Leg' training, often identified as originating with the ethnic Muslim Chinese Hui, provided a counter-point and grounding during the Camp. Sonnenberg, who recently moved to Los Angeles after completing his second Master in Fine Arts in Ceramics at Indiana University, taught and drilled all 12 roads extensively, as legs and arms shook and sweat shot out of pores. Chi was generated and refined as the participants developed their skill in this core set.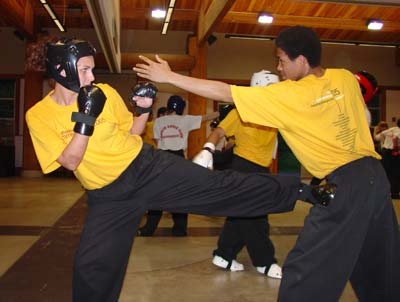 Last year, Sifu Dana conducted two absolute standout sparring seminars. This year, he did five! Teaching at a championship level, and geared towards the sanctions that predominate in the open tournament competition environment, US National Coach Daniels developed a series of two man sparring exercises to develop point-fighting and continuous fighting skills. For those surprised to find point-fighting in a kung fu curriculum, Master Fu noted, 'dim mak is the original point-fighting'! With the aid of his National Team of black sash instructors, Sifu Dana took the participants through a series of drills that emphasized the continuity between traditional forms drilling and sparring training, building their abilities to apply their kung fu in the ring. He conducted a series of mini-tourneys within the Summer Camp that gave all participants the chance to match skills with students of their own level. Shasta Smith, just in from a shoot on director Joey Travolta's set in LA, entertained with his well-known monkey-like sparring antics. Sifu Dana also demonstrated the effectiveness of his approach by sparring his own black sash level students, a chance for all the delegates to see what range and timing really mean!
Even though this Camp added almost 10 hours (!) to the total training schedule over last year, there was still plenty of time for socializing and renewing friendships and kinships between kung fu brothers and sisters. The Camp chilled out in Fremont district in Seattle, ate Greek at Costa's, raised Tsingtao at Hing Loon in Seattle's Chinatown, and dined at a superb banquet in Harbor City Cafe in the International District. After evening sessions in Olympia, the Camp delegates became familiar faces to the folks at Red Robin, where much of the visiting and catching up occurred. These down times were put to good use as they strengthened the bonds between all the members of the Bak Shaolin Eagle Claw family, and established links between the growing generations of practitioners.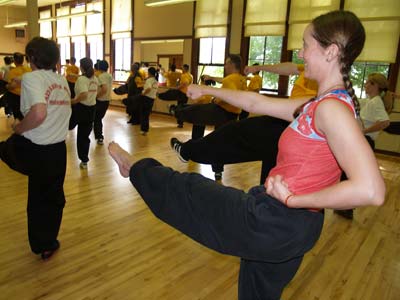 One of the themes of Summer Camp 2005 is best summarized by Master Fu's slogan: "Thrive, don't just survive." During the course of the camp, Dell Computer Engineering Manager, Noam Reininger, offered his experience in business and career building to camp participants in form of a seminar entitled, "I Just Graduated College: How Do I Get My First Real Job?" Attended by several of the Camp's recent college graduates (including Evergreen Team Captain Andrew Bresnik), Reininger outlined ways to use the skills and discipline developed in kung fu to get a career-track job in one's respective field. During the final training session, Sifu Dana expounded on the meaning of kung fu, and the manner in which kung fu can be used to effect positive change in all areas of life. In a final testimony to the success of the Camp, the hard work of those who planned it, and the hard training of those who came, Master Fu taught an additional set of Eagle Claw drills from the original 108 Locking Techniques of Ngoi Fei. Truly this was an honor placed atop the privilege of attending Summer Camp 2005!
Thanks to Grandmaster Fu Leung and Sifu Dana G. Daniels for their tireless and unflagging efforts in teaching Bak Shaolin Eagle Claw. The energy generated at Summer Camp 2005 will surely multiply and bear fruit in a multitude of ways. And if we missed you this time, we'll catch you next year!
John Eastlake is a staff member and PhD Candidate at the Centre for Irish Studies, National University of Ireland-Galway. He is also the head instructor of Club Galway, the first Bak Shaolin Eagle Claw school on Irish soil. He may be contacted at: eastlakj@graffiti.net.