Team Evergreen Wins Big in 2000 Tiger Balm Internationals
The Evergreen State College Bak Shaolin Eagle Claw Kung Fu Team kicked off spring break right! The weekend of March 17th-18th saw the Evergreen Team in beautiful Vancouver, B.C. for the 2000 Tiger Balm Internationals, an important annual Northwest martial art event, especially for Chinese kung fu styles such as Eagle Claw.The tournament is promoted by famous Northern Praying Mantis master, Jon Funk, sanctioned by numerous organizations such as the National Blackbelt League, Sport Karate International, and the World Karate Council, and sponsored by Tiger Balm Lineaments.On hand to help run the show were national NBL arbitrator, Rick Johnson, and well-known NBL promoter, James Butler of the Oregon Nationals.Great location and renowned officials provided an excellent arena for Team Evergreen to go for the gold.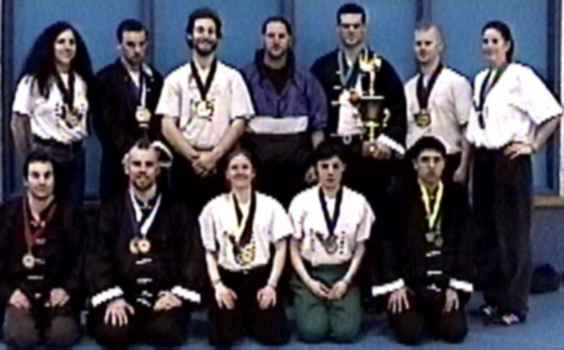 Competition kicked off Friday night, aptly, with Jesse Harter, our stalwart team captain, fighting in the light heavy weight (184 lbs.) continuous sparring division. In continuous sparring points are collected in timed rounds with less stoppage than in point sparring. Jesse was initially given a bye, but then at the last minute was pitted to face the NBL's continuous fighting World Champion of '99.
The Evergreen Team of 11 competitors took advantage of the wide variety of divisions, competing in multiple events, and emerged victorious with an impressive 27 medals.Unlike many other schools, these competitors competed in both forms and several different fighting divisions demonstrating their well-rounded martial art.The Team consisted of nationally-competing Evergreen Team members, first time out beginners, and were joined by Evergreen alumnus, Sam Haskin.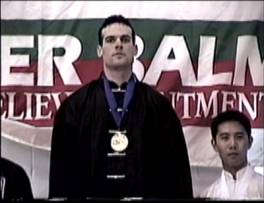 Sam is a National Team Captain, and the founding member of the TESC Eagle Claw Kung Fu Club. The Team was excited to have Sam back, especially when he blew everyone away by winning Grand Champion of Adult Traditional Forms.His powerful Eagle Claw Lohan form was a shining example of traditional Chinese kung fu, representing the skill and dedicated training of the Evergreen Team.Sam wasn't the only competitor to excel in forms: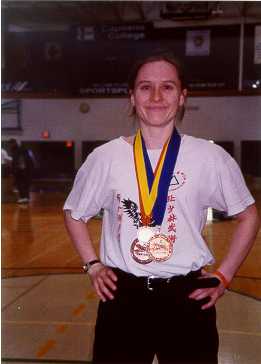 Loa Arnoth took Gold in the Blackbelt Creative Wushu Division, performing Nanchuan, a composite form showcasing the power of Southern Kung Fu.She went on to compete for the Contemporary Forms Grand Championship, finishing third in a heated event.
The fighting ring also felt the impact of the Evergreen Team.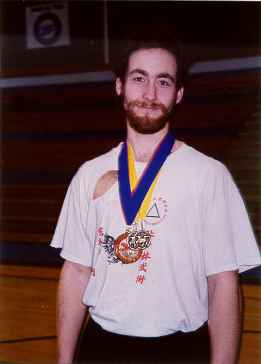 Team Captain Jesse Harter competed for his first time in Blackbelt Sanshu fighting, a full-contact division that allows punching, kicking, and throwing.The division came down to a close match between Jesse and an experienced wrestler.Jesse's kung fu fighting style was up against the opponent's wrestling techniques; in the end, even the judges commented on how close the match was, with Jesse finishing a mere point shy of Gold.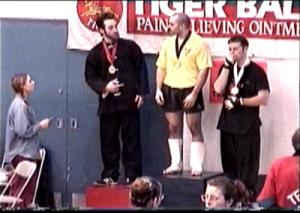 He was awarded the Silver Medal, and immediately rushed to the other side of the floor to compete in the Weapons Division with his Shaolin staff form, placing Fifth in a large division.
Shasta Smith and John Eastlake swept the advanced traditional forms division taking both gold and silver: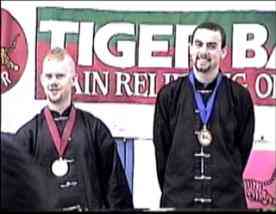 John Eastlake later competed for his first time in the full-contact WKC division.He matched against two experienced boxers who should have been competing in the Black Belt division.Even without a black belt, John held his ground in these grueling fights, taking some big hits and giving them right back.He placed Fourth in this Continuous division. John also competed in Point Fighting, with a uneventful first match; he really came alive in the second match, shutting out his opponent 5-0 to capture the Bronze.Jessie Smith, Co-Captain of the Women's Team, took a Gold in Blackbelt Sanshu, and won Silver in Blackbelt Continuous Fighting.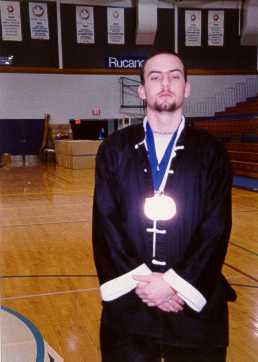 Shasta "Partyboy" Smith (also a TESC Soccer/Rugby team member), competed in Sanshu, giving a great fight for the first half of the two-minute round, running out of gas during the remainder.All fighting competitors left the Bak Shaolin Eagle Claw mark in the ring and took home the medals.
The beginners made quite a showing for their first competition.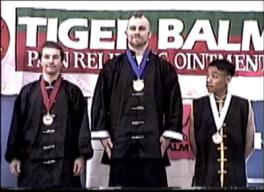 Owen O'Keefe and Devon Reid took gold and silver in the beginner forms division.
Sarah Thompson (TESC Women's Soccer Captain), Ellen Underwood, and returning member, William Baldwin, all took medals in their respective divisions, demonstrating the strength and consistency of the Evergreen Team.
The TESC Bak Shaolin Eagle Claw Kung Fu Team extends their gratitude to Arlene McMahon at RecSports (the uniforms look great), and to the S&A Board.The Team also thanks Grandmaster Fu Leung and National Coach Sifu Dana G. Daniels who accompanied the team to competition.For more information:contact Jesse Harter at (360) 357-9137 or visit www.bakshaolineagleclaw.com.