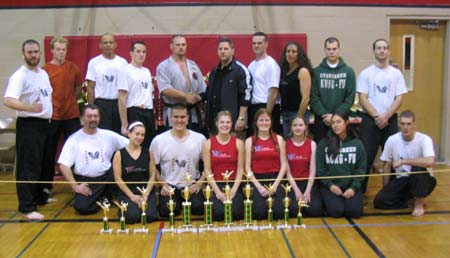 Some things change and some things stay the same.
On Nov. 8 and 9 at the Washington State National Tournament of Champions in Tenino some of the faces of the Bak Shaolin Eagle Claw Kung Fu team had changed, but the results were the same. Thirteen competitors from Team Evergreen and the Olympia and Seattle branches combined to earn 25 trophies.
On Saturday, national team members Sam Haskin, Jesse Harter and Owen OíKeefe led the way. They blazed through their opposition, delivering swift and calculating strikes in the heavyweight continuous sparring division. Andrew Bresnik and Devon Waldron, both making their first appearance at the black belt level, displayed speed and strong technique.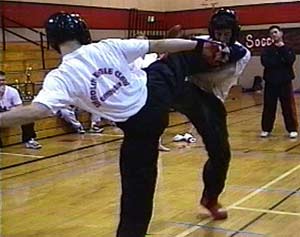 In the black-belt lightweight continuous sparring division, Team Evergreen captain Mark Germano, competing at the black belt level for the first time, dominated the ring and earned second place against nationally ranked fighter Mike Ratatti.
Andy Cyders, in the intermediate continuous sparring division for the first time, placed third after being penalized for excessive contact.
Laura Garber, a student of Evergreen alum Jessie Smith, placed third after being disqualified for excessive contact. Garberís opponents spent much of their time on the floor before Garber was disqualified.
Smith, a nationally ranked competitor, also coached several newcomers to victory over the weekend.
Brietta Krome and Stephanie Eichsteadt earned first and second place respectively in their beginner continuous ring. Heidi Aller, fighting in her first tournament, in the 15-17 age group, was moved up from beginner to intermediate, and fought her way to third place.
Ken Allen, one of OíKeefeís tough, up-and-coming fighters, earned third place in the 30-40 year old menís beginner continuous sparring division. Allen fought well against two spirited fighters before being disqualified for excessive contact to the face.
On Sunday, the Bak Shaolin Eagle Claw team stormed through the point sparring divisions.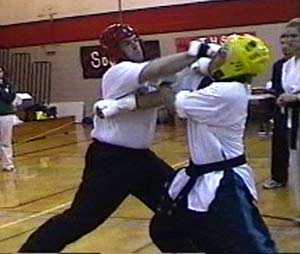 In the black belt heavyweight point sparring division, Haskin fought all the way to second place, finishing behind nationally ranked point fighter Marty May. Bresnik, in his first appearance in the black belt point sparring division, finished in a close third.
Germano defeated Ratatti in black belt lightweight point sparring before winning the finals against former Evergreen Team Captain Kevin Barrett. Germano went on to fight in the Grand Championship division. Using his speed and range, he came within a point of defeating his older and much more experienced opponent.
In the intermediate point sparring ring, Cyders earned third place.
Allen earned third place in the 30-40 year old menís beginner point sparring ring.
In the womenís point sparring divisions, Coach Smithís well-trained fighters displayed the same quickness and determination that Smith herself is known for.
In womenís intermediate point sparring, Garber fought strategically and finished first.
Eichsteadt and Krome earned first and second, respectively, in beginner point sparring. Aller earned second in the 15-17 year old girls division.
In the advanced soft forms division, Germano won first place, with Bresnik coming in second.
In advanced hard style forms, Barrett took first place with his powerful display of the traditional Chinese form, Kung Lek.
In intermediate forms, Cyders and Waldron performed well, and earned first and fourth place, respectively.
Germano went on to win the Grand Championship in underbelt forms, defeating Barrett by a tenth of a point.
In beginner forms ages 18-29, Garber, Krome, and Eichsteadt nearly swept the division, with Garber taking first, Eichsteadt third, and Krome fourth.
Allen took second in the 30-40 year old beginner forms division.
Team Evergreen would like to thank Sifu Dana G. Daniels and Grandmaster Leung Fu for their countless hours of dedicated instruction and support. We would also like to thank the spirit and peoples of the Longhouse. For more information on Evergreen Kung Fu, call the club at 360-357-9137 or go to www.bakshaolineagleclaw.com