Evergreen Kung Fu starts season strong in Scappoose, Oregon
Team Evergreen post-tournament with some of our
"extended Northwest family" in the arts.
3rd from left: Co-Promoter Marty Maye, champion NBL and IMAC fighter.
3rd from right: Mike Regliatti IMAC World Champion fighter with wife and child.
6th from right: Master Lewis, tournament promoter.
In their first tournament of the year, Evergreen's Bak Shaolin Eagle Claw Kung Fu team made a strong showing, kicking off another highly anticipated season for The Evergreen State College's winningest team.
Three fighters from Team Evergreen, and three from the national competition team battled in three tough divisions at the 2002 Northwest Tae Kwon Do & Open Championships in Scappoose, Oregon on Saturday, October 19.
The national team members set the bar high for the their junior teammates early in the afternoon. The black belt veterans took to the ring with raw energy and refined strategies taught to them by Grandmaster Fu Leung and national coach Dana Daniels.
In the Men's division Sam Haskin, founder of the Evergreen Kung-Fu club, sent opponents into adjacent rings with powerful sidekicks that were respected by opponents and appreciated by audience members.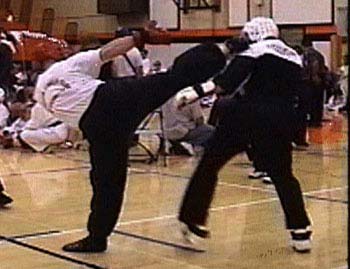 Owen Okeefe (L) took some good shots from his excellent
opponents but still managed to pull out the win for gold in
Heavy weight point fighting

Former captain of Team Evergreen Owen O'Keefe fought extremely well, taking first place in the heavyweight division. The placing earned him a match for the grand championship against nationally ranked fighter, Mike Mathers. O'Keefe, who also helps coach Team Evergreen, fought a close match with Mathers who pulled away in round two and took the title.

In women's black belt point sparring Loa Arnoth took the ring for the first time in two years. Arnoth, an Evergreen alum and member of the 2000 team that went to the National Black Belt League World Championship, took second. Despite the two year hiatus Arnoth's keen intensity rattled her opponents and kept them on their heels.

In men's intermediate point sparring, Team Evergreen's junior members fought well with the encouragement and guidance of new team captain Kevin Barrett. The division was so large that it had to be split in two.
Mark "Chicago" Germano fights his way through two
tall and strong opponents and takes silver in
intermediate Point fighting
In the first division Barrett lost a low scoring match in sudden death overtime to one of the division finalists. Andrew Bresnik took the fight to his opponent, but lost by a single point to the other division finalist. Mark Germano fought to a second place finish in his division against a very large and more experienced opponent.

Altogether the prospects for Team Evergreen Kung Fu and the Bak Shaolin Eagle Claw National team look very positive. All the fighters look forward to their next chance to test their skills.

Team Evergreen would like to thank Grandmaster Fu Leung and Sifu Dana G. Daniels for their countless hours of instruction. For more information on Evergreen Kung Fu contact Kevin Barrett at (360)357-9137 or check out www.bakshaolineagleclaw.com.