Evergreen Kung Fu Team wins medals (from The Olympian 9/12/2000)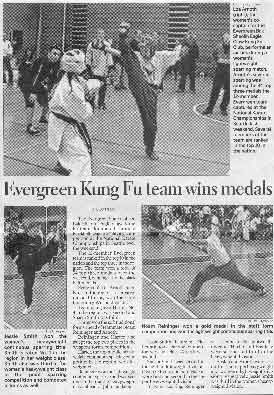 The Evergreen State College Bak Shaolin Eagle Claw Kung Fu team dominated National BlackBelt League qualifying competition at the National Karate Championships in Seattle over the weekend.
The 12-member Evergreen team is ranked in the top 10 in the nation and the top three in the region. The team won a total of 34 top three medals over the weekend, winning all of the black belt medals.
Evergreen's Loa Amoth rated No. 1 in the region for creative musical forms, won the Contemporary Wushu division. Teammate Jesse Harter, No. 3 in the region was second and Shasta Smith was third.
Harter won the soft traditional forms ahead of teammate Noam Reininger and Arnoth. Reininger and Harter also swept the top two places in the weapons forms competition.
Harter, the top middle heavyweight continuous sparring competitor in the region, won his weight class.
Reininger won the lightweight continuous sparring and was second in the middle heavyweight class, ahead of John Eastlake.
Jessie Smith, the region's No. 1 continuous sparring competitor won her class. Arnoth was second.
Shasta Smith was second in the light middleweight division. Owen O'keefe and Sam Haskin were first and second in the super heavyweight division.
In point sparring, Reininger was second in the lightweight division. Harter and Eastlake were second and third in the heavyweight division.
Haskin and Arnoth were second in the super-heavyweight and women's lightweight divisions, respectively. Jessie smith was third in the women's heavyweight division.