National Victory for Bak Shaolin Eagle Claw Kung Fu At the Midland Martial Arts Open Championship

The Bak Shaolin Eagle Claw National Competition Team returned Victorious after Memorial Day weekend from the Midwest Martial Arts Open Championship, a Chinese Kung Fu Tournament hosted and attended by some of the most well known Kung Fu Masters including Henry Chung from the Praying Mantis system, Lily and James Lau from the Lau Family Eagle Claw system, and Grandmaster Fu Leung from Bak Shaolin Eagle Claw system. The Bak Shaolin Eagle Claw National Team rendezvoused in Detroit, Michigan and consisted of clubs from The Evergreen State College, University of Wisconsin Madison and Oshkosh, U. of Massachusetts Boston, Chicago, Texas, Indiana, Minnesota, and Florida. The team of sixteen competitors included eight Black Belts, three Advanced, and five Intermediates.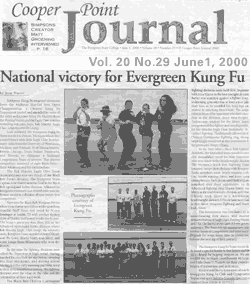 The Bak Shaolin Eagle Claw Team dominated and won two thirds of the Black Belt Forms division. Jesse Harter, from The Evergreen State College won Gold in the Black Belt open-hand forms division, followed by Evergreen teammate Loa Arnoth who won Bronze in a division consisting of over twenty-five competitors. Next, was the Black Belt Weapons Forms where Jesse Harter won Silver with a smashing Shaolin Staff form, followed by Noam Reininger of Austin, TX with another ripping show of Shaolin power to take the Bronze.
The team's presence was also felt in the advanced open-hand forms division where Bak Shaolin Eagle Claw swept the winner's circle, Evergreen Team member Owen O'Keefe won Gold, Shasta Smith won Silver, and Jessie Lange from Minnesota won Bronze.
By the time the fighting divisions were called the Team was in high morale. Having traveled for over half the day before, sleeping less than two hours, and driving across Michigan in the early morning did not daunt their determination to victory. The fighting divisions were the icing on the cake and the culmination of their hard work. The Black Belt Chinese Continuous Fighting divisions were held first, beginning with Jesse Harter in the heavyweight division. Harter was matched against a fighter from a kickboxing gym who was at least a foot taller, so he avoided his long legs and moved in attacking ferociously. The judges ruled in favor of his opponent who later placed first in the division. Jesse then fought a Taekwondo student for the Silver. Jesse "NHL" Harter overpowered this fighter and was disqualified for his trademark full-contact fighting style.
Next up in the Men's Lightweight Black Belt Fighting division was Noam Reininger. Attacking in a flurry of swinging punches and rendering his opponent stumbling and dizzy, he was disqualified in under a minute. Then Paul Villarreal of Madison, WI fought Master Lee, a high-ranking and well-known WTF Black Belt who threw an impressive display of kicks; however, his power did not intimidate Paul and he immediately targeted his weakness. After dropping Master Lee to his knees with three consecutive kicks to his inner legs and groin, Lee was reluctant to parade his kicks and Paul was disqualified.
By then the tournament promoter, Henry Chung, felt he had lost control of the fighting rings and announced that within thirty years of martial arts experience, he'd never seen such aggressive fighting; but later, he confessed that it was good fighting, it just gave him high blood pressure to see at his tournament. Let it be noted that the disqualifications were not because of malicious intent. The finicky and nervous promoter and judges were trying to impose light-contact American karate style point fighting rules on the Chinese Continuous ring that is traditionally a more rough and tumble fighting style.
The Black Belt Continuous ring continued with Hisham Guess from the University of Massachusetts in Boston. Hisham earlier stunned the audience by opening in the forms division with three consecutive Shaolin head flips. Again, cool and calculated, Hisham nearly knocked out his opponent in one interchange where he landed three quick hits to the head with one hand. Within fifteen seconds, Hisham was also disqualified from the ring. Jericho Jansen from Oshkosh, WI was up next, mimicking the point fighting styles, Jericho moved quickly around the ring, attacking his opponent and won his first fight on points. His second fight was against the same fighter that Hisham had nearly knocked out minutes before. The other fighter must have still been stunned because he moved in with his hands down and drew some heavy hits to his head. Needless to say, Jericho was disqualified. Last up was Nate Sonenberg who won Silver in the middleweight division.
The Women's Black Belt Fighting Team swept their division with Evergreen Team members Jessie Smith winning Gold, Loa Arnoth winning Silver, and Jessie Lange taking Bronze. Each dominated their ring and marched over their opponents. In the Advanced fighting ring Shasta Smith won Silver in the middleweight division and Owen O'Keefe took Silver in a hard-hitting heavyweight division. O'Keefe later won Gold in the Short Weapons Fighting and Shasta took Bronze.
The tournament was concluded by an entertaining lion dance and masters' demonstration. Master James Lau Chi Kin performed an Eagle Claw form, Henry Chung performed a Praying Mantis form, and there was a Tai Chi Sword demonstration. So, after twelve hours of competition, the Team left the tournament and returned to Detroit for a little downtime in Greektown before the next leg of their journey.
The Bak Shaolin Eagle Claw National Team would like to thank Grandmaster Fu Leung and Sifu Dana G. Daniels for their countless hours of instruction and dedication. If you would like to learn more about Bak Shaolin Eagle Claw, visit our web page at www.bakshaolineagleclaw.com.