Kung Fu a Hit With Kids
Kung fu specialist offers self defense classes catering to young students
Kevin Barrett for the Olympian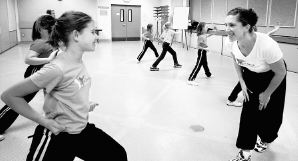 Defense instructor Jessie Smith encourages Samantha Brock, 13, to take a shot during their regular session at The Olympia Center. Smith is a graduate of The Evergreen State College and a former member of the school's kung fu team.

OLYMPIA -- Ashleigh Brock, 10, likes to kick. Her 13-year-old sister, Samantha, likes to punch. Their mother, Jana, likes the idea of her daughters learning self defense.

And Jessie Smith ... well, she likes to teach girls how to defend themselves.

On Monday nights at The Olympia Center, Smith teaches 8- to 14-year-old girls how to use their feet, fists and elbows to protect themselves.

Smith lets the girls hit a variety of pads and sometimes her own body as part of the curriculum. She also discusses with her students the dangerous situations that might call for that kind of reaction.

Smith's students and their parents are enthusiastic about the class.

"I wanted to get them involved in something outside of school," Jana Brock, Samantha and Ashleigh's mother, said. "After that first class they started looking forward to it every week."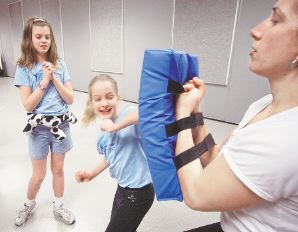 Ashleigh Brock, 10, gets into her practice with self defense instructor Jessie Smith during a recent youth class at The Olympia Center.

Smith's accomplishments in the martial arts world have been reported in a variety of media, most recently in Inside Kung Fu magazine. When Smith started teaching women's classes two years ago, she envisioned teaching kids eventually. In October that vision became a reality.

Smith, 30, has spent the past five years on the competitive circuit making a name for herself first as the women's captain on the Evergreen Bak Shaolin Eagle Claw Kung Fu team, then as a national member of the organization.

At the same time she earned a degree from The Evergreen State College with a focus on psychology and women's studies.

Her decision to start teaching women's self defense came from her feeling that "women and girls need confidence-building for school, work and their future.

"I thought there was a need for a class for young girls," Smith said. "There's so many bad things going on in the world today that parents are getting scared. Here, parents get to see their daughters get excited about learning how to defend themselves and getting strong."

And that's just what some parents get to do. Jana Brock often sticks around for part of the class. She can see the increased self confidence in her girls in and out of the class.

"They're really proud of their accomplishments," Brock said. "They feel confident."

Brock's daughters both agreed with her but had a little more to add.

"Jessie is really fun and really exciting and easy to be around," Samantha said.

Ashleigh likes the exercise and making new friends.

Brock credits these positive responses to a solid program and a personal teaching style.

"I was amazed and impressed with the way she interacted with the girls," Brock said.

Now Brock finds her daughters wanting to get her involved in Smith's adult classes. After the holidays she's going to consider it.

Smith's students range in age from 7 to 53.

Jan Benson, 40, enrolled in Smith's aerobic kickboxing class before she enrolled her daughter in Smith's kids class.

Benson wanted to get back in shape after a snowmobiling accident left her bed-ridden for a month.

"Now I'm ready to go out snowmobiling again," Benson said. "The class has gotten me back in shape and given me more flexibility."

Benson enrolled her daughter Lacey, 7, in Smith's kids class when it started.

Benson wanted her daughter to start developing some self-confidence and learn how to defend herself in a fun way that wasn't intimidating.

"To (Lacey) its just great fun," Benson said. "For me, it makes me feel safer."