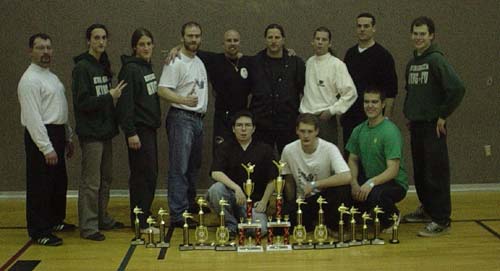 Bak Shaolin Eagle Claw Team Evergreen with highly ranked national champion fighters Mike Mather (5th from L) and Mike Regliatti (3rd from R)
Photo Gallery
The fourth incarnation of the legend of Team Evergreen stormed through Eatonville on Saturday May 10 taking fourteen trophies and two Grand Championships at Jesse Palmer's annual Eatonville Charity Tournament, an NWMAA sponsored event.
Veteran team members Kevin Barrett and Mark Germano brought home the Grand Championships in advanced underbelt (brown belt) forms and point sparring, respectively.
In the advanced forms division Barrett and Germano tied with traditional hard style competitor Clem Hong for first. In a unanimous decision Barrett won the division with his freshly polished 'youth fist' form. Germano took third, and Devon Waldron took fourth in his first appearance at the advanced forms level.
In beginner forms Andy Cyders and Greg Thomas finished first and second, respectively.
Barrett and Cyders would go on to compete in the underbelt Grand Championship division, meeting up with Hong again. In yet another unanimous decision Barrett won. The victory was a significant milestone for the brown belt from Philadelphia, having just begun competing in the advanced division a month prior.
In black belt point sparring Seattle instructor Sam Haskin faced nationally ranked fighter Mike Mathers. Haskin planted solid kicks into Mathers, but as time wound down he was unable to put in the final strike. Haskin lost by a single point.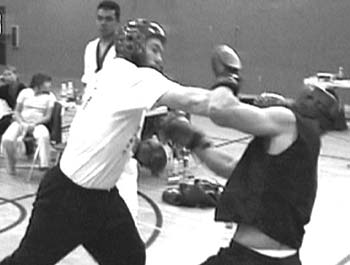 Next up, O'Keefe battled Mathers in a dramatic fight for first place. Both fighters traded points during the beginning of the match. Then Mathers, with a swift stroke of luck and timing, landed a two-point head kick. O'Keefe, riding on a wave of recent success against numerous ranked opponents, came right back with a cross-hand punch that rattled Mathers. In the final seconds Mathers scored a questionable backfist during a fast exchange and won the match. This, For O'Keefe, this was just one more in a string of fights firmly establishing himO'Keefe among the ranks of the best point fighters in the Northwest.
In the men's advanced point sparring ring Team Evergreen orchestrated an excellent performance, taking nearly every placing available.
In the first match Germano made short work of his opponent, landing several head kicks that ended the bout early. Germano went on to fight his way to the championship round where he would face teammate Waldron.
In the next match Barrett struggled with an opponent whose reach exceeded his own. The Evergreen team captain was unable to duplicate his earlier success in the forms division.
Then Waldron made up for a slow start by defeating several opponents on his way to challenging Germano for first place.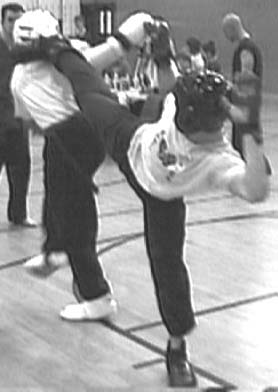 In the battle for first, Germano, loose and fast, used his speed and range to defeat Waldron. The teammates finished in opposite order just two weeks ago in Spanaway.
Also in the advanced sparring division, Seattle branch member Ed Antkowiak fought his way to fourth in his first sanctioned tournament appearance. Antkowiak is a long time martial artist but new to the Bak Shaolin Eagle Claw school. Antkoviak also finished second to Hong in the 35 and older point sparring division in a rough, heavyweight match.
In beginner point sparring Thomas and Cyders dominated the competition. Thomas finished first and Cyders second, fueling an ongoing team rivalry between the two.
In the underbelt Grand Championship point sparring division, Germano soared past the competition swiftly defeating his opponents. In his five fights on the day, Germano was undefeated and uncontested. The future team captain and upcoming sparring sensation held each of his opponents to two points or less. Thomas, otherwise undefeated in tournament sparring, was unable to stop his more experienced kung fu brother.
Team Evergreen once again represented The Evergreen State College, Bak Shaolin Eagle Claw International and the martial arts in an impeccable manner challenging themselves and their opponents to reach higher levels.
Team Evergreen would like to thank Grandmaster Fu Leung and Sifu Dana G. Daniels for their countless hours of instruction and support. For more information on Evergreen Kung Fu contact Kevin Barrett at (360) 357-9137 or email him at barkev28@evergreen.edu. Check out team Evergreen on the web at www.bakshaolineagleclaw.com.