Kung Fu Team Caps Off the Year Winning in Eatonville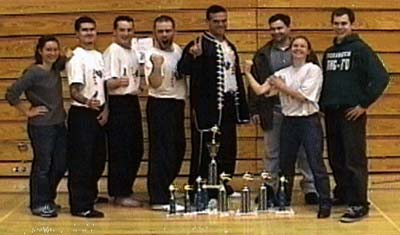 The Evergreen Kung Fu Team had a strong showing at the Mount Rainer Invitational tournament in Eatonville last Saturday. Six members of the Bak Shaolin Eagle Claw team competed in forms and fighting, bringing home nine trophies.
At the beginning of the day team captain Owen O'Keefe startled opponents and spectators in the blackbelt weapons division, demonstrating his power with Shaolin Quan. Everyone watched attentively as the sound of his staff echoed through the gymnasium. At the end of his nearly impeccable form he received loud applause from the audience and a first place finish from the judges.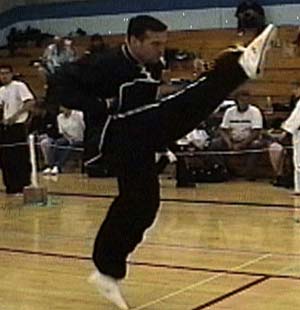 In the men's blackbelt empty hand forms division O'Keefe along with teammates Sam Haskin and Steve Burris swept the division for Team Evergreen. Haskin, an Evergreen alumnus took first with his fast and furious Eagle Claw Lo Han. Haskin later went on to win the Grand Championship in men's blackbelt forms. O'Keefe took second in the division followed by Burris, a previous Texas branch member. The three competitors displayed traditional Shaolin forms that left all of their opponents by the wayside. Even the hard-style judges could not deny that the soft-style forms were performed with far superior precision and power.
In the heavyweight blackbelt point sparring division O'Keefe brought it all to the table. In the championship round O'Keefe faced Haskin, who had fought his way through the first round against a Sensei from Master Dave Smith's Spirit Force Karate. The two veteran kung fu brothers found themselves in a familiar spot, fighting each other for first place. In a match that could only be dubbed "The Clash of the Titans" O'Keefe came out on top taking gold with Haskin taking silver. In the middleweight blackbelt point sparring division Burris finished third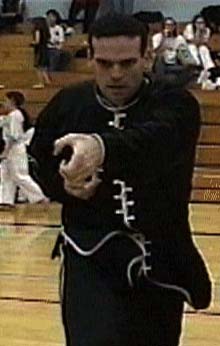 .
In the intermediate forms division Ryan Kunimura made his long awaited return to the tournament scene. Kunimura, back from a year of studying and teaching in Japan, finished third in his first competition since last spring. Mark Germano and Andrew Bresnik, both first year members, also competed in the division demonstrating Four Corners, a challenging Choy Li Fut form taught by Grandmaster Fu Leung at Evergreen last month.
In intermediate point sparring Bresnik finished third. This was Bresnik's first tournament competing at the intermediate level. Kunimura also fought well in the division picking up where he left off last spring. The native Hawaiian's punches were delivered with sniper like accuracy to his opponents' helmets leaving them with much to remember. Germano also had a good showing in the division bringing his Monkey style skills to the intermediate level for the first time.
While some of the newer members of Team Evergreen make their way up the ranks, some veterans are preparing to graduate and move on. Looking back over the year, O'Keefe commented, "A lot of hard work and training paid off for everyone." Overall, he feels this has been another successful year for Bak Shaolin Eagle Claw at Evergreen. When asked about Evergreen Kung Fu next year O'Keefe replied, "There's a lot of interest on campus and there's a good, up and coming junior team that's ready for competition next year."
O'Keefe and the team will continue to train throughout the summer as some senior members prepare for wold championship level competitions in June and July.
The Evergreen Kung Fu team would like to thank Grandmaster Fu Leung and National Coach Sifu Dana G. Daniels for their countless hours of instruction and dedication. For more information about the Team Evergreen Bak Shaolin Eagle Claw Kung Fu Club and Competition team visit www.bakshaolineagleclaw.com or contact Owen O'Keefe at 357-9137.