Evergreen Kung Fu Visits Neighboring Tournament in Eatonville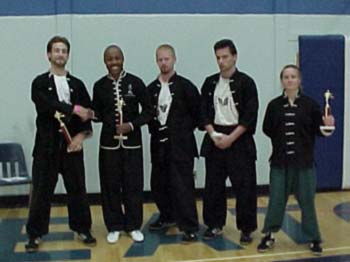 The Evergreen State College Kung Fu Club paid a visit to the town of Eatonville on June 3rd to take part in the Northwest Martial Arts Challenge. The competition was held in the high school gymnasium, and was participated in by many other martial arts schools from all over the northwest.
The Evergreen club is always a force to be reckoned with, the presence of which was no exception at this tournament. In the Black Belt Creative forms division team member Jesse Harter put silenced with the crash from Jesses' staff during the Black Belt Weapons division, in which he won the Silver. Jesse was also able to pick up a Bronze in the Black Belt Soft forms division, and placed forth in Black Belt Hard forms. In the Advanced Level Point Sparing division Jesse punished his opponent with several solid punches and a roundhouse kick to the head. Unfortunately in a point sparing competition points are often taken away for any real contact, and Jesse was unable to win on points.
In Black Belt Women's Soft forms Loa Arnoth demonstrated an outstanding form the covered almost one length of the gym, for which she was awarded the Silver. Loa also won bronze in the Women's Creative forms division. Perhaps the most exciting event during the tournament was the Women's Black Belt Point Sparing competition, in which Loa fought a much taller opponent. Despite the height and reach advantage of her challenger Loa was able to get inside and connect with several solid punches to the head and body. Both were warned against excessive contact twice during the fight, but they continued to exchange vicious blows nonetheless. After about a minute and a half or so both of them were disqualified for being too rough.
In the Advanced Soft forms division team member John Eastlake took the Gold. With the excitement and energy gained by taking the Gold in his previous division, John also went on to take the Gold in the Advanced Hard forms division. His amazing performances in both of the Advance forms divisions qualified John to compete for Grand Champion of Advanced forms. This was a very competitive division, with solid performances from everyone. John's form however, was with out a doubt the most clean and powerful. The judges saw it this way too, and awarded him the Grand Champion trophy.
In the Beginners divisions the Evergreen team won quite a few medals as well. Ellen Underwood took the Gold in both Soft and Hard women's forms. In her Point Sparing division she battled her way to a Silver medal. Ryan Kunimura got a silver medal in Beginner Soft forms and placed forth in Beginner Hard forms. Ian Armstrong Placed forth in Beginner Hard forms, and Kevin Barrett placed fifth. This was the first tournament that I myself competed in. Being an original Evergreen Kung Fu Club member, and a native of Eatonville made this a most exciting first event. I was able to take a bronze medal in both Soft and Hard Beginner forms. In my Point Sparing division I landed several solid punches to the head and roundhouse to the body of my opponent. I didn't win on points, but I enjoyed it nonetheless.
The Evergreen State College Bak Shaolin Eagle Claw Kung Fu Club would like to thank Jesse Palmer and Ray Rihtarich for promoting the tournament, as well as the wonderful community of Eatonville. We would also like to extend special thanks to Sifu Dana Daniels, and Grand Master Fu Leung.