Evergreen Kung Fu Veterans and Newcomers Win Again in Centralia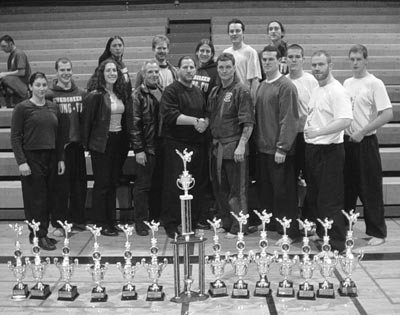 The current "next-generation" of Team Evergreen for 2003 with some old-timers. Shaking hands (center-right), Sensai Dave Smith, Spirit Force Karate. Fourth from left; Mark Bresnik, Andrew's father.
(click for larger image)
In the first tournament after a three month hiatus, Evergreen's Bak Shaolin Eagle Claw Kung Fu team came out with an indomitable winning spirit, proving that the next generation of Eagle Claw competitors is primed to make their presence known on the competitive martial arts circuit.
Saturday's East-West Gathering of Champions open martial arts tournament in Centralia, Washington featured several high-octane forms and fighting divisions. Team Evergreen's black belts and underbelts dominated in all divisions.
The day started with the beginners, who were all in their first tournament with Team Evergreen. The newest members of Evergreen nearly swept the division, with Greg Thomas taking fourth, Devon Waldron taking second and Andy Cyders coming away with first prize.
The current "next-generation" of Team Evergreen then took center stage. This time it was a clean sweep. Andrew Bresnik, Mark Germano and Kevin Barrett took first, second and third respectively. Judges commented that though all competitors did the same form, each of them had their own distinct energy.
Bresnik later competed for underbelt forms grand championship alongside Cyders and half a dozen competitors from host Donny Omega's East-West Karate school. Bresnik combined grace, spirit and power to overcome the home team bias as he took his first grand championship for Team Evergreen.
It would be a paramount day for Bresnik and the Eagle Claw intermediate competitors. After an extremely successful forms performance, Team Evergreen took to the fighting ring with doubled energy.
Working closely with Sifu Dana G. Daniels in recent weeks, the team had all the tactical know-how and smooth energy they'd need to raise themselves to the top of any fighting division. The black belt competitors blasted the heavy weight division first. Using the new tactics given to them by Sifu Daniels, Sam Haskin and Owen O'Keefe, both Evergreen alumni, took second and third respectively. The six-foot, two-hundred plus kung fu fighters combined their power with an uncanny grace to nail karate black belts in the head with lightning fast hook kicks.
O'Keefe and Haskin, who recently appeared in the January and February issues of Inside Kung Fu alongside the previous generation of Team Evergreen competitors, have now both opened their own Eagle Claw Schools in Olympia and Seattle.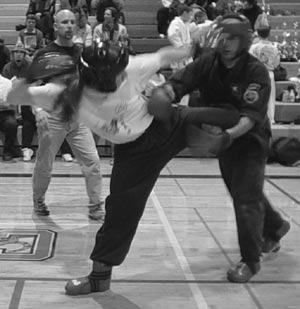 Team Evergreen captain Kevin Barrett lays one in on his way to thrid place in point fighting
(Click for larger image)

Then after a long wait the intermediate competitors finally took to the ring. First up was Germano who fought hard, but barely lost out on points against a fighter who spent most of the match on his back. Next, Bresnik made short work of two of his opponents, winning within the first minute in both of his fights. Then team captain Kevin Barrett showed his whining opponents what it means to fight a hard-core, east coast kung-fu fighter. Finally, new team member Waldron fought extremely well, winning both his fights. Due to a judging and score-keeping foul-up Waldron was denied a fight for first place against Germano's opponent. Bresnik and Barrett took second and third respectively.

After the intermediate team members fought, beginners Greg Thomas and Andy Cyders entered the ring for the first time. Thomas surprised both opponents and teammates with quick and tricky techniques, throwing several kicks that found their way to opponent's faces. Cyders also made use of techniques learned from Sifu Daniels, easily defeating his first opponent. Thomas and Cyders took first and second in their first ever fighting division.

Also at the tournament for Bak Shaolin Eagle Claw was the first appearance of Jessie Smith's shaolin Eagle Aerobic Women's Fighting Team. In a rough intermediate division against more experienced competitors Niki Charneski took second place with the aid of Smith's coaching.

At the end of the day Team Evergreen put together a team of four continuous fighters to square off against four black belt point fighters from different teams. Haskin, O'Keefe, Bresnik and Germano trounced their more experienced opponents. The fight was the perfect finish to a great day for the next generation of Bak Shaolin Eagle Claw competitors as well as the seasoned veterans.

Team Evergreen would like to thank Sifu Dana G. Daniels and Grandmaster Fu Leung for their countless hours of instruction and support. For more information on Evergreen Kung-Fu contact Kevin Barrett at (360) 357-9137 or check out www.bakshaolineagleclaw.com.