Evergreen Kung Fu Team Scores Big at Oregon Nationals
Evergreen's Bak Shaolin Eagle Claw Kung Fu team has just returned from its first competitive outing in the year 2000 with seventeen medals. The Double Diamond Nationals (Feb 25-26) was held at the Chinook Winds Casino in Lincoln Oregon, a four-hour drive to the ocean from Olympia. The Competition was sponsored by the NBL (National Black Belt League), one of the largest Karate Sanctions in the world with members in 55 states and provinces and 33 countries including South America and Europe. This tournament is considered the largest and most important in the northwestern NBL conference and draws many competitors from LA to Vancouver as well as from the East Coast and mountain states.
Competition kicked off Friday night, aptly, with Jesse Harter, our stalwart team captain, fighting in the light heavy weight (184 lbs.) continuous sparring division. In continuous sparring points are collected in timed rounds with less stoppage than in point sparring. Jesse was initially given a bye, but then at the last minute was pitted to face the NBL's continuous fighting World Champion of '99.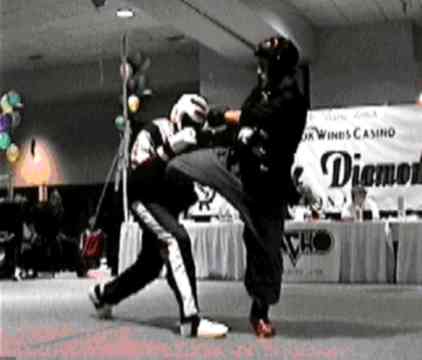 In a fast, aggressive match, Jesse surprised the judges and spectators alike by physically dominating the champion, ducking his incredibly fast kicks, punching back, and sometimes intimidating him. Due mostly to penalty deductions that NBL referees love to hand out when the expected favorites aren't winning or a Kung Fu team shows up, Jesse placed fourth in the division but left a shadowy imprint of what was to come.
Next up was Loa Arnoth, another national team veteran, in only her second appearance as a black belt in the fighting ring. In her first bout she fought the SKIL (Sport Karate Int. Alliance) amateur world champion of '99. Her opponent was taller and much more experienced but Loa toughed it out kicking and punching with the determination that marks her style. A few minutes later, Loa was up again this time she faced a girl with three world championships in the NBL. Matched evenly in size but again fighting a much more experienced opponent who had speed and technical skill, Loa fought gamely and aggressively, entering while being hit, and showing her opponent and the audience that she was not to be pushed around. She finished fourth in the division and said that these were the two most difficult matches of her life so far. Our whole team is very proud of her.
Next up, was Jessie Smith, our other women's fighting team captain. Jessie fought two matches against tough, seasoned opponents, in a heavier weight range. In short, Jessie simply dominated with her presence and hard punches, bloodying one opponent's nose landing a disqualification in that match. She finished with the BRONZE and earned the respect of the crowd and fighters watching.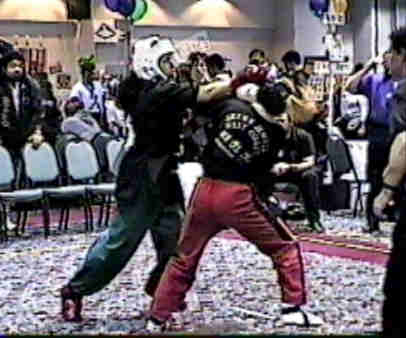 Forms division came next. Just minutes after fighting, Loa was up for the traditional soft (Kung Fu) division. She flew through her Eight Directions Eagle Claw form and took GOLD against a field of all men. She later said that she forgot where she was during the form because of those tough earlier fights. Jesse Harter next up took SILVER with his Eagle Buddhist Lo Han form. One and two! Not bad to wrap up that division!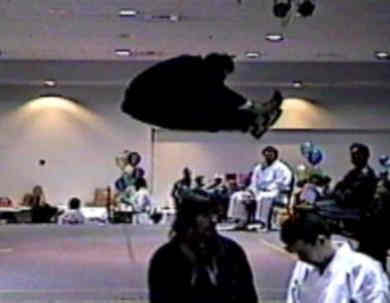 Then, Jesse Harter again takes GOLD in the Kung Fu weapons division with his wickedly fast staff form, essentially embarrassing his opponents with his skill and power, and earning kudos from the judges. That was a good wrap up for Friday night, which ended at midnight.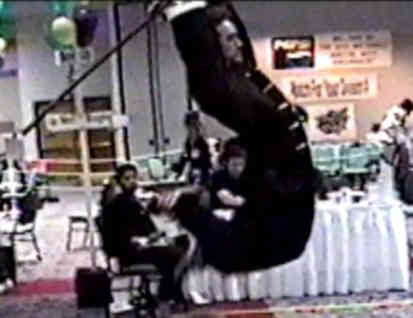 Saturday, up early after about five hours sleep, quick breakfast and back to the sight. Competition went as follows, Owen O'Keefe, a newcomer first time out won GOLD in the beginner hard style forms division, and SILVER in beginner soft style. Shasta Smith won GOLD in intermediate hard style, and Katherine McClain SILVER intermediate hard style. They later duplicated their Gold and Silver win in intermediate soft style after being robbed of their medals by judges who complained that they competed in a non Kung Fu division. John Eastlake another national team competitor won SILVER in advanced (brown belt) forms.
In point fighting, Shasta Smith, quick, superior, aggressive, in control, was unfairly disqualified by biased judges.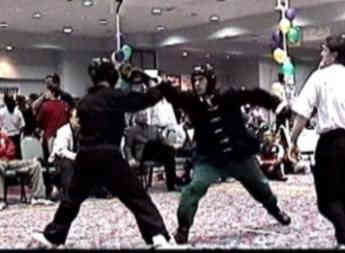 John Eastlake, tough and solid. Owen O'Keefe, aggressive, stable, first time out, gave his opponent a hard time.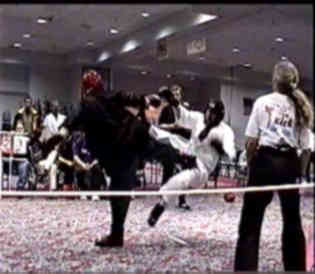 Katherine McClain, inside, aggressive, no holding back, back in the ring after a lay off. Then Jessie Smith was back in the ring for her Black Belt point fights. Again dominant, sturdy, hard punching, she placed forth.
Loa, Jesse Harter, and Jessie Smith then entered the creative musical forms division. Loa's southern Nanchaun earned her the SILVER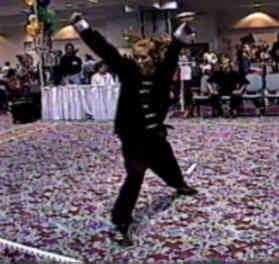 (Jesse Harter's Shaolin Moi Fa, done to Pantera's music, took the Bronze; Jessie Smith won fourth.
The Finale. Late in the day, Jesse Harter takes the main stage. He fights two opponents in quick succession. His first fight is against a top ten fighter who eliminated the world champion the night before. Again, tough, smart, moving, Jesse pushes his opponent around in spite of the extremely fast kicks being aimed at his head, eventually driving his opponent out of the ring in a flurry.
(As Jesse lines up against opponent number two, there is an ominous hush in the crowd, a sense of seriousness unseen in the previous events. The fighters and judges seem to know that this Eagle Team and this fighter are not lightweights, but someone to be reckoned with. Once again Jesse fought his fight, entering when the opponent would assume he had backed off, showing that real Kung Fu is not lame, but always ready to rock. Jesse again finishes with the fourth place medal in the most difficult division against probably the top ten rated NBL fighters in the country. ALL RIGHT JESSE!
The team would like to thank Arlene McMahon (REC Sports), and the S&A Board for their backing and assistance. And thanks to Jesse Harter's family (Mom, Dad and friends) for staying through the long trying hours to offer support. Thanks also to the other parents who visited. We always appreciate the sense of family and unity that they bring to our team events. A special thanks to our very own team support members Jenny Aneshansley, Ellen Underwood, Sarah Thompson, and Devin Reid for their camera work, vigilance, and over all good cheer.
Last but not least we would like to thank Grandmaster Fu Leung, world wide head of Bak Shaolin Eagle Claw, for his teaching and guidance; and, National and Evergreen Coach, Sifu Dana G. Daniels for his tireless, patient, and focused drive to get this team (and the National team) where it is today.
Medal Total (17):
Jesse Harter
Gold, Silver, Bronze, Fourth, Fourth
Loa T. Arnoth
Gold, Silver, Fourth
John Eastlake
Silver
Shasta Smith
Gold, Silver
Katherine McClain
Gold, Silver
Owen O'Keefe
Silver