2005 Mighty River Classic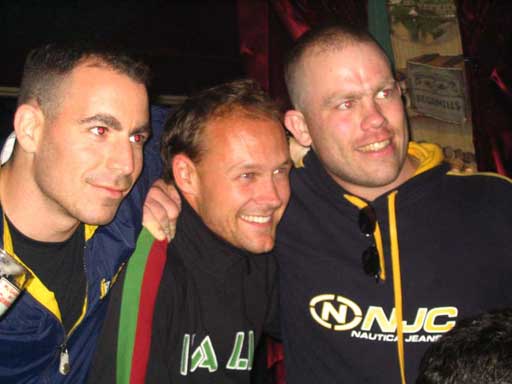 October 2nd, 2005, Vancouver, WA – Five members of the Bak Shaolin Eagle Claw national competition team descended on Rick Cropper's Mighty River Classic for the third stop on their campaign to tear up the national open martial arts circuit. After some stunning wins and many kudos, the team took home two hard-earned medals—one Bronze and one Gold.
The tournament hosted a reunion of sorts of the best sport karate competitors in the Pacific Northwest, including the current NBL Point Fighting World Champion Marty Maye, as well as several NBL and IMAC champions from years past. Also in attendance were some up and coming fighters, hungry to make a name for themselves.
The first member of the team to fight was Owen O'Keefe, who defeated his first opponent by fighting hard and scoring fast. Owen won his second fight in the same vein, but was edged out in his third by a mere point.
Andrew Bresnik fought next, displaying superior timing and strategy for a clear, quick, and decisive win against his first opponent. Two impressive fights later, Bresnik landed in third place for the division.
Devon Waldron, in his only fight of the day, battled in an intense match against a well-known Northwest fighter. After two fierce rounds, Devon lost on a questionable call in sudden-death.
Jesse Harter was next, ending a two-year hiatus from the ring. Harter's return reminded his opponents, as well as the audience, how he had earned a reputation for being a tough and entertaining fighter.
The final member of the team to enter the ring was Sam Haskin who fought three matches using long and powerful attacks to take first place in the division. Haskin then went on to fight in the Grand Championship competition against the current NBL world champ. By the end of fight, however, the final victory went to his opponent.
The team continues to blaze their way across the open martial arts circuit with plans to compete all over the country (as well as in Canada and Ireland). Their next stop: Burnaby, British Columbia for the Western Canadian Martial Arts Challenge on October 22nd. See you there!