Team Evergreen Wins at Rick Cropper's Mighty River Classic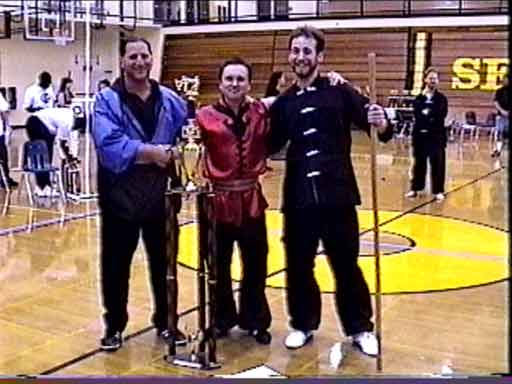 On the weekend of October 7th, Team Evergreen sent three members to compete at Rick Cropper's Mighty River Classic martial arts tournament in Vancouver, WA. The tournament was held at Hudson Bay High School whose motto is, appropriately, "The Home of the Eagles." Even though the Mighty River Classic is not a major competition three of Team Evergreen's competitors, Team Captain Jesse Harter, Graduate Coach John Eastlake, and Owen O'Keefe, decided to head south to keep their skills tuned for competition while they prepare for the 2000 Super Grand World Championships in December.
After a long morning and longer afternoon of underbelt runoffs, the Black Belt divisions were finally underway. First up was the Soft Traditional Forms where Team Evergreen swept the division with Harter taking the Gold. His form demonstrated the clarity and speed of Eagle Claw to such an extent that he received a perfect score of 10 from one of the judges. O'Keefe took Silver and Eastlake took Bronze sewing up the division. Team Evergreen also swept the Creative/Musical Division using traditional Shaolin and Eagle Claw forms. Harter took another Gold, O'Keefe another Silver, and Eastlake, the Bronze. In the Weapon Forms division, "NHL" Harter slammed his Shaolin Staff form through the division taking Gold again for a Kung Fu "Hat-Trick."
Fighting at this tournament was limited to a single point sparring division with all of Team Evergreen's competitors entered into the Black Belt Heavyweight division. O'Keefe fought an impressive match against the #1 Heavyweight Point Fighter in the Pacific Northwest, Tim Gustavson, and took the Bronze. Eastlake placed 4th and Harter placed 5th after being uncharacteristically eliminated in the first round after receiving several penalty points for leg kicks.
Shortly afterwards, the Grand Champion Forms Divisions was held, with Harter's "Hat-Trick" earning him three slots in the division. He competed against winners from the Hard Stylist forms divisions and impressed judges and spectators with his endurance to compete with all three forms and win the Grand Championship of Black Belt Forms at the Mighty River Classic. Following this awesome victory, tournament promoter Rick Cropper made his statement, "Shaolin Eagle Claw Rules!" So with only three competitors, Team Evergreen brought home nine Medals and the Grand Championship.
Continued success like this has guaranteed the Team to make it to the 2000 Super Grands. If you are interested in supporting the Team, check out their all-night Kung Fu movie fundraiser this Friday at TESC Lecture Hall 1 starting at 9pm.
As always Team Evergreen thanks National Coach Sifu Dana G. Daniels and Grandmaster Fu Leung for their teaching and support that makes these victories possible.Team Evergreen Wins at Rick Cropper's Mighty River Classic