Team Evergreen Kung Fu spends spring break in winning style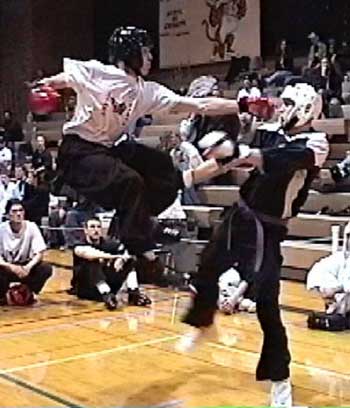 Mark Germano takin' it to 'em Monkey style

On March 23rd and 24th the Evergreen Bak Shaolin Eagle Claw Kung Fu team competed in the Coca-Cola USA Nationals in Centralia, Washington. Eleven Shaolin competitors participated in the tournament hosted by Jesse Palmer of the International Martial Arts Council (IMAC) and presented by the Northwest Martial Arts Association (NWMAA).

Team captain Owen O'Keefe took third place in the men's traditional soft forms division. O'Keefe later finished second in the men's traditional weapons forms with a staff breaking display of power. O'Keefe tied the first place Wushu competitor twice before losing a split decision. In the continuous sparring ring Team Evergreen's captain fought his way to a championship match with Bak Shaolin national team representative Sam Haskin. O'Keefe finished in second place.

Haskin, an Evergreen alum and founding team captain, took first place in the super heavyweight continuous sparring division. In the men's blackbelt traditional soft forms division Haskin impressed the crowd with his display of Eagle Claw Lo Han and took first place. This qualified him for the Grand Champion forms competition which featured winners from every blackbelt empty hand forms division. Haskin finished one tenth of a point behind the winner, Sensai Dave Smith from Spirit Force Karate. Haskin later took third in the men's blackbelt super heavyweight point sparring division.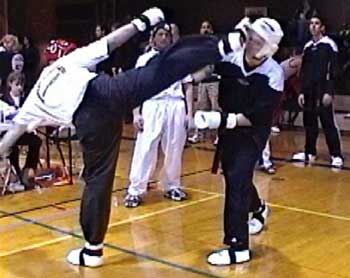 Sam Haskin serving a hook kick
O'Keefe and Haskin fought team sparring along side Steve Burris, previous Texas branch member, now working for the US government in Seattle. The trio did well winning their first match against an experienced Tae Kwon Do school from Tacoma.
In the women's blackbelt traditional forms division Jessie Smith finished in first place. Smith went on to win the Grand Champion trophy on Sunday for women's forms performing the traditional kung fu form Mui Fa with the usual Smith attitude that the Northwest martial arts world has come to know. Smith, the Northwest region's #1 rated point fighter, continued her reign of perfection finishing first in the female continuous sparring ring. Bout after bout she repelled her eager opponents beating out all weight classes to finish as Grand Champion once again. In the women's blackbelt point sparring division Smith finished second in a close match ending her incredible streak of first place finishes that dates back to last spring.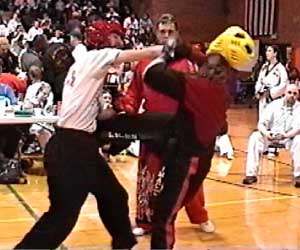 Ben Green takes it to IMAC World Champion Mike Regliatti with Sensei Dave Smith Officiating

In the under blackbelt traditional forms division Robyn Holmes led the junior team finishing first, narrowly beating Andrew Bresnik in a run-off. Animito Pollina, Mark Jaffe, and Ben Green all took third in their respective underbelt traditional forms divisions. Once again the Evergreen Kung Fu junior team, or the 'new crop' as they have been dubbed by their opponents, had swept the competition.

In underbelt open creative forms junior team members Mark Germano and Andrew Bresnik took second and third, respectively. Later in the day the two teammates would fight their way to second and first place finishes, respectively, in their underbelt point sparring divisions.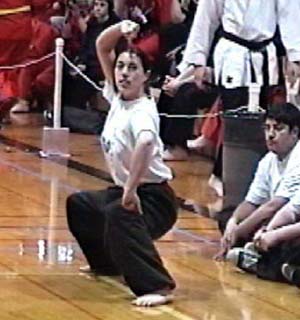 Robyn Homes demonstrates her traditional Shaolin form
Overall this win displays the team's tradition of fierce competition and their honorable reputation among opponents. The junior team has already made a name for itself against opposing schools and the veterans continue to command respect from the competition. Many members of Team Evergreen are already rated in IMAC's regional 2001 series and are invited to the World Championships in June 2002
.
The Evergreen Kung Fu team would like to thank Grandmaster Fu Leung and Sifu Dana G. Daniels for their countless hours of instruction and dedication. For more information about the Team Evergreen Bak Shaolin Eagle Claw Kung Fu Club and Competition team visit www.bakshaolineagleclaw.com or contact Owen O'Keefe at 357-9137.