Team Evergreen at Ken Low's "Can-Am Internationals"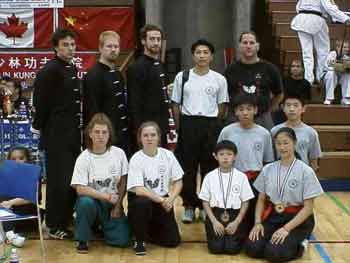 The weekend of June 24 saw a core crew of 6 team members and National Coach Sifu Dana G. Daniels competing in the NBL (National Blackbelt League) rings at the Can-Am Internationals in Vancouver Canada. Although Ken Low's Can-AM is a Chinese tournament, Saturday was mostly karate divisions with one wushu ring. The NBL was in control of the stadium all day, with top regional and national karate competitors trying to get AAA rated points for this years upcoming Super Grands. Team Evergreen made its presence felt even with a small group.
Even with it being a Chinese tournament Team Evergreen only had two open hand forms divisions to compete in, traditional soft, and soft creative/musical. Jesse Harter showed his skill and power taking a silver medal in both blackbelt divisions. Loa Arnoth's clarity and focus earned her a bronze medal in the creative musical blackbelt division. These medals addded points twords Jesse Harter and Loa Arnoth's seedings in the NBL Super Grands. Competing in the traditional soft blackbelt weapons ring, Jesse Harter woke up the crowd with his thundering Shaolin staff form. This tournament marked the first time John Eastlake, Shasta Smith, Katherine McLaine, and Owen O'Keefe competed at the blackbelt level, although not yet ranked as such.
In the NBL point rings, Jesse Harter came up against 6th ranked nationally fighter, Tim Matheson. Jesse Harter moved up to the super heavyweight division to have a chance fighting Tim and the reigning NBL point fighting world champion who was in the division as well. After a few exchanges Tim scored a solid point with a left foot roundhouse to Jesse's chest. Jesse shook it off and came right back, hammering Tim's leg and torso with kicks and punches. It was a solidly contested fight, which ended with Tim ahead by a few points. Dan Anderson, Tim's coach, well known author, and legendary point fighter, applauded Jesse's style and power saying, "Lots of spirit, good fight." In the women's blackbelt fighting division Loa Arnoth and Katherine Mclaine fought hard. Loa Arnoth was off to a strong start against a Tae Kwon Do stylist but unfortunately got disqualified for drawing blood. Katherine showed her fighting tenacity coming back from a bloody nose to fight two more fights, placing fourth. Team Evergreen also competed in the NBL team fighting ring. Shasta Smith, John Eastlake, and Jesse Harter fought against a Canadian team. Shasta and John both had low scoring rounds despite delivering heavy hits. Team captain, Jesse Harter, fought well going toe to toe with his opponent. The team ended the division taking bronze. Team Evergreen once again demonstrated its solidity and power.
The team thanks Grandmaster Fu Leung and Sifu Dana G. Daniels, for their teaching and training.