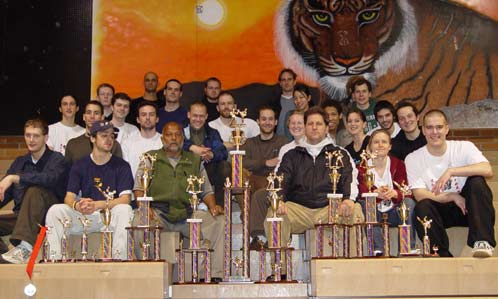 USA Nationals; one of the biggest tournaments of the year for the Northwest region. Seven hundred competitors, intimidating right? Wrong.
On Saturday and Sunday, March 6th and 7th, twenty-three Bak Shaolin Eagle Claw competitors from around the nation attended Jesse Palmer's USA Nationals, the Northwest Martial Arts Association's premiere event, in Centralia Washington.
Black belts from the national team joined with newcomers to the Bak Shaolin family, and the results were tremendous. The team showed up in force, and dominated nearly every division they entered. With the help of Grandmaster Fu Leung and Sifu Dana G. Daniels the team took home forty-four medals.
It was a spectacular day for the Eagle Claw competitors in forms and fighting, but the highlight of the tournament was the full contact continuous rings where the black belts took first place in nearly every weight class.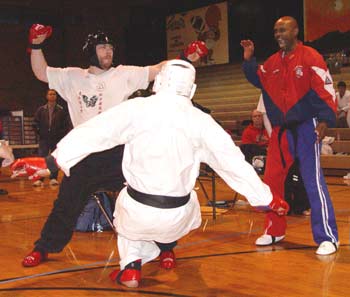 Super-heavyweights Sam Haskin and Owen O'Keefe, both former captains of Team Evergreen, displayed their massive power and strength in their stacked division. After several tough fights O'Keefe took third and Haskin fourth.
Team Eagle Claw swept the heavyweight division with Jesse Harter (former captain of Evergreen Kung Fu) taking first, Andrew Bresnik (current co-captain of Team Evergreen) second and Devon Waldron third. Harter and Bresnik both roughed up their first opponents so badly that no others would stand in the ring against them. Waldron, after waiting patiently for his chance to follow his senior captains' example, was denied the chance when his only possible opponent bowed out before the match began.
Nate Sonnenberg, world champion forms competitor and instructor of Bak Shaolin Eagle Claw at Indiana University, dominated the middleweight division and took first place after knocking out his first opponent and clobbering his second for three rounds to win the championship.
In the lightweight division, Evergreen team captain Mark Germano dominated the competition. After knocking out his first opponent in twenty seconds, Germano went on to win first place in the division. National team members Noam Reininger and Shasta Smith fought well, but both lost by close decision at the end of their fights.
Directly after this strong performance in the full contact rings, the team took to their forms divisions.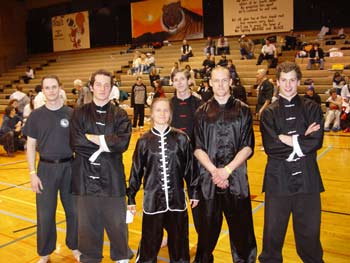 They swept the men's traditional soft forms with Sonnenberg taking first, Bresnik second and Germano third. Seattle instructor Loa Arnoth eclipsed all of their performances, scoring higher than all other competitors in traditional soft forms and took first in the women's division. Arnoth also placed second in open forms by demonstrating a sharp, clear Eagle Claw Mui Fa. However, in the grand championship round Sonnenberg turned it on and showed why he was the number one forms competitor in IMAC in 2002, by winning the two-hundred dollar grand prize.
Sonnenberg also took first place in black belt soft weapons forms with an impressive display of Shaolin Shepard staff.
At the end of the first day the black belt competitors switched gears from heavy full contact fighting to light, fast point-sparring.
The super-heavy weights continued to fight well. O'Keefe and Haskin fought with speed and power and placed second and third respectively.
In the heavyweight division, Bresnik and Harter easily beat their first opponents. However, following close losses to other fighters, they fought each other for third and fourth place with Bresnik winning by one point. Waldron also had an impressive showing, but lost his first fight in a close match.
In middleweight point fighting, Sonnenberg fought hard, but lost by just one point late in the match.
In the lightweight division, Germano continued his success in the fighting rings, beating former NBL and IMAC world champion Mike Rethati and teammate Shasta Smith to place first. Reininger also beat Smith, but lost to Rethati and took third place.
The next day, the under-belt team members continued the success of their older brothers and sisters. In intermediate traditional forms, Andy Cyders won first place with a well executed version of Shaolin Long-Fist, with Waldron taking third place and Greg Thomas coming in fourth.
Thomas and Cyders also had great success in the intermediate point fighting ring. Thomas fought through three hard opponents and took first in his division. He continued his success, showing impressive speed and strategy and fighting his way to become under-belt Grand Champion in point sparring. Cyders came out strong, but was disqualified for excessive contact by a biased center judge early in his first fight.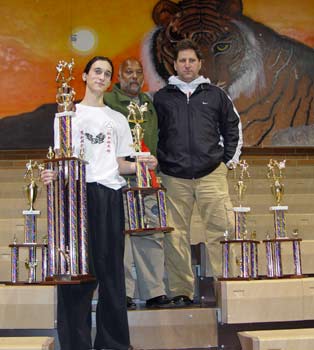 In the men's beginner 18-34 sparring division, the beginners did well. Hank Kushman and Seth Waldstein fought through a deep division bringing home third and fourth place respectively.
In the women's division, Julia Snyder beat her first opponent easily, but lost to teammate Stephanie Eichstead to take second place with Eichstead taking first. Eichstead went on to fight for the grand-championship in women's point sparring but lost by just one point in one of the most exciting fights of the day.
Ken Allen, fighting in the 35+ division, stifled his competition with long range kicks and punches, taking third place.
In the beginner forms division, Team Eagle Claw made a clean sweep with Allen in first, Snyder in second, Seattle club member Gabe Ford in third, and Indiana University team member Joshua Polasky in fourth.
Also competing at the beginner level were Evergreen team members Michael Crowley and Aubrey Harding, along with Seattle team member Jack Lloyd.
All team members saw their hard work and dedication pay off in this spectacular weekend for the Bak Shaolin Eagle Claw family.
Team Evergreen would like to thank Sifu Dana G. Daniels and Grandmaster Leung Fu for their countless hours of dedicated instruction and support. We would also like to thank the spirit and peoples of the Longhouse. For more information on Evergreen Kung Fu, call the club at 360-357-9137 or go to www.bakshaolineagleclaw.com