Bak Shaolin Eagle Claw Roars at The 2006 Tiger Balm Internationals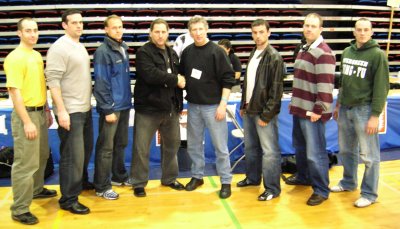 In their biggest competition of the academic year, Evergreen's Bak Shaolin Eagle Claw Kung Fu team traveled up to Vancouver, British Columbia to compete in their fourth tournament of the season, the Tiger Balm Internationals, a huge internationally recognized event with some of the top competitors on the continent.  Led by team captain Devon "Dakota" Waldron, Team Evergreen's Dan "Doj" Edleson-Stein, Aubrey Harding, Darius Harding and Cary Kibby-Deck competed in both traditional soft forms and fighting. Team Evergreen was joined by Bak Shaolin Eagle Claw National Team memebers and Evergreen Alumni Sam Haskin, Jesse Harter and Andrew Bresnik, all former Team Evergreen captains. Also present from the National Team were Nate Sonnenberg and Shasta Smith of Manhattan Beach, California.  Two members of the Phinney Ridge Kung Fu Club, Bak Shaolin Eagle Claw's Seattle branch, Brandon Ward and Damon May, were also in attendance.
The first day of the competition began with the Black Belt Soft Forms division.  With six competitors in the division, Bak Shaolin Eagle Claw showcased a range of knowledge with forms from several different styles.  Andrew Bresnik burned through a vicious Choy Li Fut routine, Sam Haskin thundered across the ring with Shaolin Mantis, and Harter, Smith, and Waldron showed the power and flow of Northern Shaolin Eagle Claw.  Nate Sonnenberg took gold with his Eagle Claw Lohan, showing once again why he is a world champion.
Off to a strong start, the team picked it up for Black Belt Point Fighting in the afternoon.  In the lightest weight class, Shasta and Nate fought hard.  Nate, in a spectacularly close match, dropped a crescent-axe kick on his opponent's head in the final seconds of his last match, earning him bronze.  In the heavyweight division, Andrew fought first, taking it to his opponent and sailing on into the next round.  Waldron was matched up against Sukwinder Manhas, the well-known coach of Team Canada, and though he lost on points he pounded his opponent, not letting him go unscathed.  Then Harter was up, and he too, blew away the opposition.  Andrew fought the renowned Bill Hunter in a rematch from three weeks ago, and though fighting hard, was denied by the two-time world champion.  The fighter that was punished by Waldron in the first round received similar treatment from Jesse Harter in the second, paying a heavy price for winning on points.  Harter finished third, taking home bronze, with Bresnik right behind him in fourth.  In the super-heavyweight division, Sam Haskin awed not only his competition, but the other fighters in the room, with an unprecedented display of finesse.  Undefeated in three fights, Haskin went on to take home the gold in his division. The point fighting Grand Championship that came next saw Sam and Bill Hunter line up against each other in a heated bout where Hunter took the final Championship after a tense 4-2 match.
After the Black Belt Point Fighting ring was done, it was time for Team Evergreen to show their stuff in the underbelt Traditional Soft Forms division.  It was a clean sweep, with Aubrey Harding in third, Doj Edleson in second, and Brandon Ward of Phinney Ridge in first place with the gold, for his performance of Shaolin Power Fist.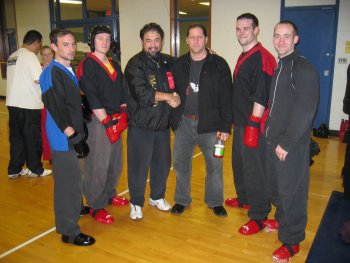 In the final event of the day, the Black Belt Continuous Sparring, Sam Haskin edged out his opponent and took another first place.  In lightweights, Nate was forced to forfeit the third and fourth place round for drawing blood; Shasta, though the dominant fighter in the first and second place round, received silver because of excessive contact.  In the heavyweight division, it was lightning fast and hard hitting.  Bresnik was up first, and rocked his opponent with smashing Choy Li Fut.  Waldron dominated his first opponent in a match that was hard enough that both fighters were nearly disqualified.  Harter also showed how dangerous he could be, blasting his opponent despite a broken toe.  Eventually, Waldron faced off against Harter in a very close match, resulting in a win for the newest Evergreen team captain.  Andrew slammed his way through his next opponent, right into the final bout for first and second.  In a brotherly rival match, Andrew and Devon fought for the gold, with Devon eventually coming away with the win in the end, thanks in part to some excellent coaching.
The second day of the tournament finally saw Team Evergreen compete in their underbelt point fighting divisions.  In the lightweight division, Darius Harding picked off his opponent in a clear win.  Aubrey Harding defeated Edleson-Stein for a chance at the gold.  In a final, brother versus brother match, Darius displayed smart and strategic fighting and took the gold.  Doj was awarded bronze after his opponent forfeited the match.  In the heavyweight ring, John Cary dominated his first opponent with strong kicks and quick hands.  Kibby-Deck opened up in his fight, making quick work of the opposition and earning a place in the first and second match.  The final match, Cary Kibby-Deck versus John Cary, saw a long bout in which John Cary pulled ahead of Kibby-Deck just before time ran out.  Once again Team Evergreen swept the beginner point fighting divisions, with two golds, two silvers, and one bronze.
Team Evergreen looks forward to continuing an already strong and successful year. The team would like to thank Grandmaster Leung Fu and Sifu Dana G. Daniels for their tireless efforts in teaching Bak Shaolin Eagle Claw. The energy gained at the 2006 Tiger Balm Internationals will help all the participants and the members of Team Evergreen achieve even greater heights in another challenging and competitive year. Next up: the team will return to Vancouver, BC the Western Martial Arts Open on April 8th.  The competition season will continue with a string of regional and national events through the spring and summer quarters until its finale at the MAAD Challenge in Portland which will take place during the annual Bak Shaolin Eagle Claw summer camp in June. Be sure to check them out!
The Evergreen Bak Shaolin Eagle Claw Kung Fu Club and Competition Team meets Monday through Friday.  Contact Team Captain Devon Waldron at (360)-357-9137 or Devon.C.Waldron@gmail.com . Bak Shaolin International website: www.bakshaolineagleclaw.com.