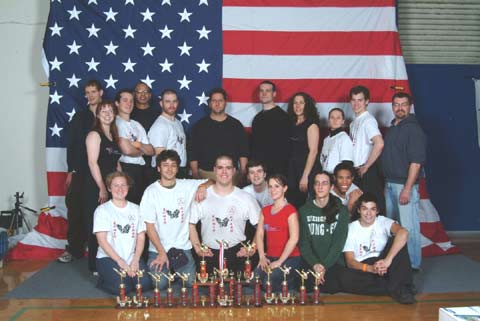 2004; a new year, another chance for the Northwest chapter of Bak Shaolin Eagle Claw to repeat history by claiming another victory on the Open Martial Arts Competition Circuit.
On Saturday February seventh at the Northwest Opens in Tacoma, the blackbelts and intermediates of Team Evergreen ushered in a new group of spirited young fighters.
The blackbelts, old and new, continued to raise their status in the open competition circuit.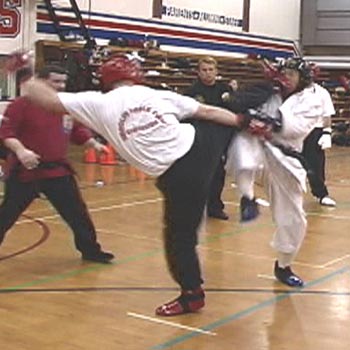 In men's heavyweight point fighting local instructor Owen O'Keefe had a spectacular day, taking second place among seven seasoned fighters. In the past O'Keefe's biggest asset was his power, but on Saturday his power was combined with grace and speed. The results were tremendous.
Representing the Evergreen school for the second time at the blackbelt level, Sophomore Devon "Dakota" Waldron took third by fighting smart and fast in the heavyweight division.
Seattle instructor and founder of Team Evergreen, Sam Haskin also had a strong showing, taking fourth.
In the middleweight division Evergreen Co-Captain Andrew Bresnik took fourth after roughing up his opponents. Bresnik's performance was undercut by several questionable calls from his ring's center judge.
Mark Germano, also current Co-Captain of Evergreen, took third in the lightweight division after a narrow loss to three time world champion Steve Curran.
Bresnik and Germano also made a solid showing in men's blackbelt forms.
Evergreen's Intermediate students Andy Cyders and Greg Thomas started their first competition of the new year right by dominating their divisions.
Several days after his 20th birthday, Cyders displayed his newfound maturity by shutting out his opponents, and taking first place. Cyders also took second in intermediate forms.
Thomas, competing for the first time at the intermediate level, showed he could stand toe to toe with his competitors by placing second in fighting behind Cyders and fourth in forms.
The beginners, some returning and some new, upheld the tradition of excellence set forth by the older members of the team.
Stephanie Eichstead, competing for her second time, took first in women's beginner point sparring, repeating the success she earned at her first tournament. Eichstead also took fourth in yellow belt forms.
Lena Bruns, a newcomer out of Jessie Smith's Eagle Claw women's team, placed second in yellow belt forms.
Ken Allen, a returning beginner of Owen O'keefe's school, dominated the men's beginner 35+ sparring division, blowing through his opponents and capturing first place. He also placed third in his beginner forms division.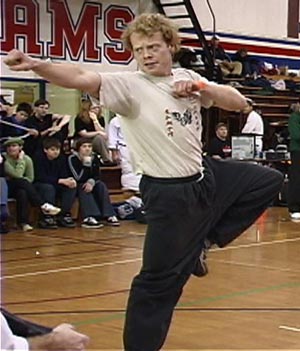 Newcomer Hank Kushman, a teammate of Allen's, took second in his first beginner sparring division.
Team Evergreen's true beginners made a good impression at their first tournament.
Aubrey Harding took third to Kushman in beginner point sparring, and placed third in beginner forms.
Daniel "Doj" Edleson-Stein, took second place in forms with a sharp display of Shaolin Longfist.
Julia Snyder took second in women's beginner point sparring, finishing just behind Eichstead in a close, hard-fought match.
Seth Waldstein and Michael Crowley also made strong showings in their large beginner devisions.
Team Evergreen would like to thank Sifu Dana G. Daniels and Grandmaster Leung Fu for their countless hours of dedicated instruction and support. We would also like to thank the spirit and peoples of the Longhouse. For more information on Evergreen Kung Fu, call the club at 360-357-9137 or go to www.bakshaolineagleclaw.com