Evergreen Kung Fu Shows Their Mettle At The Island Open Championship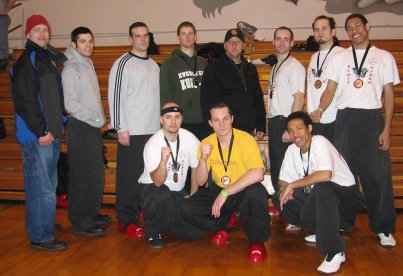 In their first competition of the winter academic quarter, Evergreen's Bak Shaolin Eagle Claw Kung Fu team traveled by car and by ferry boat to Victoria, British Columbia to compete in their third tournament of the season, the Island Open Championship. The competition, organized by Albert Labossiere and directed by one of Canada's top tournament promoters, Bill Hunter, hosted some of the top local talent from the British Columbia area. Led by team captain Devon "Dakota" Waldron, Team Evergreen's Dan "Doj" Edleson-Stein, Aubrey Harding and Darius Harding competed in both traditional soft forms and fighting. Team Evergreen was joined by Bak Shaolin Eagle Claw National Team memebers and Evergreen Alumni Sam Haskin, Jesse Harter and Andrew Bresnik, all former Team Evergreen captains. Also attending were members of the Phinney Ridge Kung Fu Club, Bak Shaolin Eagle Claw's Seattle branch.
The day began with the under blackbelt soft forms division. Though the members of Team Evergreen often compete in different divisions based on their experience level, the Island Open had only one soft forms division for all adult competitors ranked below black belt. The result was that Team Evergreen's competitors were up against not only other beginners, but intermediate and advanced competitors as well. Knowing how to turn up the heat, Evergreen's Aubrey Harding and Brandon Ward of the Phinney Ridge Kung Fu Club, Seattle's branch of Bak Shaolin Eagle Claw, pulled out performances earning them third and second places respectively. John Cary, an Evergreen alumni in his first tournament appearance, earned a fourth place finish in the highly competitive division.
Next came the beginner point fighting ring where Cary, Ward and Phinney Ridge club member Bryan Williams all made their competitive debuts. The ring began with John swiftly defeating his first opponent, taking him into the second round. Brandon, after a loss in the first round, fought his way through two more difficult matches to earn the bronze. John stayed strong all the way through the competition, outscoring his final opponent and taking the gold.
Team Evergreen's Aubrey Harding and Darius Harding, along with "Doj" Edleson-Stein, fought for the first time in an intermediate division. In an intense kick off match, Edleson-Stein narrowly defeated his opponent with his usual quick and scrappy style. Aubrey fought an experienced opponent, pressing him hard but finishing just shy of a winning score. Darius, with a bye, edged out Doj for a chance at the gold. By the end of the division after a series of heated matches, Darius had won the silver and Aubrey had the bronze.
The final event of the day was the black belt point fighting division where current Evergreen team captain Devon Waldron and former team captain Andrew Bresnik fought alongside Team Evergreen alumni Sam Haskin and Jesse Harter. Bresnik fought first and was matched up against local legend and two time NBL World Champion Bill Hunter. Bresnik shocked Hunter with his speed and skill, forcing the exciting match to time out with a one point difference in favor of Hunter. Waldron fought second, lining up against a bigger opponent who he quickly bested to move on to the second round. Haskin fought well in the third match, but was edged out by a fighter who would go on to beat Hunter for first place. Next was Jesse Harter, who beat his opponent in a hard-hitting and fast-paced match showing once again that he is both a skilled and entertaining fighter. In the second round, it was Devon's turn to square off against Bill Hunter where he pressed the champion in a very close match resulting in a 2-1 score in Hunter's favor. Jesse fought Hunter next, each 'hunting' for the point that would send him to the first place match. In the final moments of the fight, Hunter broke the tie. Harter went on to defeat his next opponent for the bronze in the third round.
After the team's successful showing at the tournament, they took a well-deserved break in beautiful Victoria, British Columbia where they had a chance to celebrate their victory in the city's historic downtown.
Team Evergreen looks forward to continuing an already strong and successful year. The team would like to thank Grandmaster Leung Fu and Sifu Dana G. Daniels for their tireless efforts in teaching Bak Shaolin Eagle Claw. The experience gained at the Island Open Challenge will help all the participants and the members of Team Evergreen shine in another challenging and competitive year. Next up: the team will return to Vancouver, BC for the Tiger Balm Internationals on March 18th and 19th , and the Western Martial Arts Open on April 8th. The competition season will continue with a string of regional and national events through the spring and summer quarters until its finale at the MAAD Challenge in Portland which will take place during the annual Bak Shaolin Eagle Claw summer camp in June. Be sure to check them out!
The Evergreen Bak Shaolin Eagle Claw Kung Fu Club and Competition Team meets Monday through Friday. Contact Team Captain Devon Waldron at (360)-357-9137 or Devon.C.Waldron@gmail.com. Bak Shaolin International website: www.bakshaolineagleclaw.com