Hard-Hitting Bak Shaolin Eagle Claw National Team Captures World Rankings at IMAC World Championships 2002 in Vegas.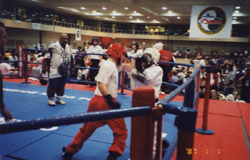 Friday Night, 28 June, 2002: In bloody continuous fighting division, which turned full-contact early in the evening, Noam Reininger (Austin, TX) after five difficult fights claims #2 world rank, only losing his last fight by a fraction in round two to a Pacheco camp fighter. Nate Sonnenberg (Wisconsin) gained #3 world rank while Shasta Smith (Los Angeles) takes fourth in the wild and brutally contested lightweight division. In middleweight continuous, Jesse "NHL" Harter (Steamboat Springs, CO), after two disqualifications in four fights and dominating two fighters so totally that they could not continue, took fourth world rank. In heavyweight, Evergreen Team Captain Owen O'Keefe, bleeding from nose and lip, takes third in the world. Jessie Smith places third in continuous women's fighting.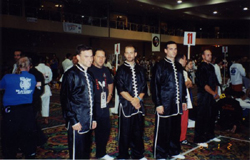 Saturday, 29 June, 2002: Sifu Daniels implements strategic shift to lighter and faster. Team meets Inside Kung Fu editor Dave Cater and his excellent photographer Jaimee, and has enjoyable and comprehensive photo shoot. Nate Sonnenberg in a large Chinese (soft) forms division, pulls a stunning upset with his electrifying Lo Han Eagle Claw and defeats last year's world champion and former member of Beijing Wushu Team to claim #1 world rank. Sam Haskin (Seattle, WA) followed in third place with Owen O'Keefe placing fourth.
Saturday Night, 29 June, 2002: In the much awaited point fighting venue, stacked with numerous former NBL and IMAC champions and with a last minute rule change to include groin kicks as a target, Jesse Harter, feared and formidable continuous and full-contact competitor, pulls off an amazing feat in the "lighter and faster" point fighting ring by defeating two opponents, losing one fight, and finishing with a third world rank in the heavyweight division that was won by Raymond Daniels, arguably the best point fighter in the world. Needless to say, the crowd was shocked by the team's ability to change up.