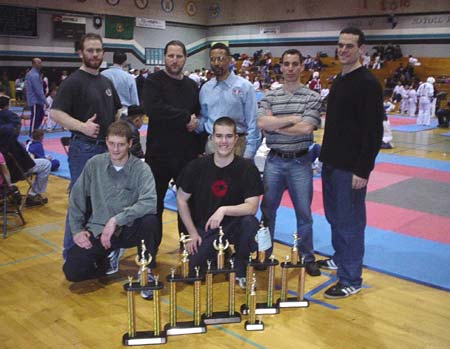 Master Ric Gordon, promoter (center), with BSEC National Team Members O'Keefe, Coach Daniels, Reininger, Haskin, (second row) team Evergreen newcomers Waldren and Cyders.
Photo Gallery
There's a myth that kung fu stylists fare poorly at open karate tournaments. The same myth persists regarding Tae Kwon Do competitions. Team Evergreen, a Bak Shaolin Eagle Claw Kung Fu collegiate competition team, continues to dispel myths.
On April 26 collegiate team members, as well as several national members, traveled to Spanaway, Washington to support Master Ric Gordon in his annual PacWest Tae Kwon Do Association Martial Arts Championships. The event was sponsored by the Amateur Athletic Union (AAU) and the Northwest Tae Kwon Do Association.
The tournament was a national qualifying event for the AAU, which can lead to American national team tryouts and eventually the Olympics. This brought a variety of skilled participants from the Northwest.
With several Bak Shaolin Eagle Claw instructors in attendance, including nationally ranked IMAC fighter Noam Reininger, the crowd's eyes were soon locked on the black belt point sparring ring.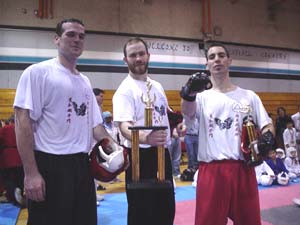 In the first match of the day, Olympia instructor Owen O'Keefe squared off against a young, fast competitor. O'Keefe dominated the ring and came out the victor.
In the next round, Seattle instructor Sam Haskin fought a tough fight against an older opponent, Mr. Williams, whose experience and poise enabled him to edge by Haskin.
Reininger, former captain of the University of Wisconsin team and current Manager for Dell Computers in Austin, Texas, was next to challenge Williams. Reininger's swift hook kicks and rapid-fire fists nearly equalized the size advantage of Williams. In the end Reininger lost by a single point. Reininger later took third.
In the championship match, O'Keefe squared off with Williams. In the first minute, O'Keefe delivered a series of kicks that left his older opponent shin-bruised and winded. Although the beginning of the match was fairly even, O'Keefe's endurance and strategy allowed him to dominate the final minute and win the gold.
The advanced students then took to the point ring. In the first fight Mark Germano left his opponent in the dust. Then Devon Waldron edged past the rough and heavy Evergreen team captain Kevin Barrett. In the championship round Waldron had a surprising come from behind victory against Germano, giving him the first place finish with Germano in second.
In the beginner ring Andy Cyders took his first gold medal over two local Tae Kwon Do fighters.
In the forms competitions Team Evergreen members competed up one division and still dominated.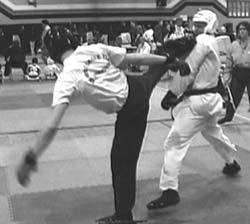 In Black Belt open forms Germano and Barrett made an impressive showing taking first and third, respectively. In intermediate competition Waldron and Cyders tied for first. After the run-off Waldron took gold and Cyders silver.
At the close of the day, Sifu Dana G. Daniels along with Isshin Ryu Sensei Richard Taylor put together a continuous fighting division for the Eagle Claw fighters to demonstrate the hard-hitting style they are known in for.
The black belt crew entertained the crowd with several bruising battles. The final placing was Haskin in first, Reininger in second and O'Keefe in third.
In other notable matches Barrett and Germano squared off in a tough fight that left both competitors with battle scars to wear proudly. Cyders also beat another Tae Kwon Do fighter to take first in beginner continuous.
Team Evergreen would like to thank Grandmaster Fu Leung and Sifu Dana G. Daniels for their countless hours of instruction and support. For more information on Evergreen Kung Fu contact Kevin Barrett at (360) 357-9137 or email him at barkev28@evergreen.edu. Check out team Evergreen on the web at www.bakshaolineagleclaw.com.